Harris Lindsay

Ltd.
67, Jermyn Street
London, SW1Y 6NY
Tel: +44 (0) 20 7839 5767
Fax: +44 (0) 20 7839 5768


We are open 10.00 − 5.00, Monday to Friday,
and at other times by appointment.
Follow us on Instagram @HARRIS_LINDSAY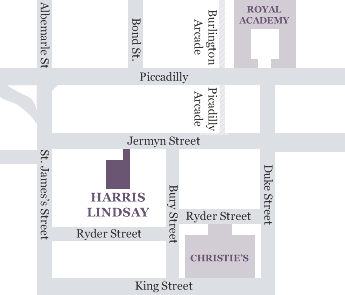 If coming to visit us for the first time, please note that we do not have a window on the street. Our premises are at the back of the building on the ground floor, as shown on the above plan. Look out for our hanging sign and a large pair of doors (see photograph of exterior on our 'About Us' page).